FREIGHTLINER SERVICE PLANS
No matter what you are carrying or what industry you are in, the primary purpose of your truck is to earn money. There are many reasons why a Service Plan from Freightliner can make this easier for you, such as attractive, predetermined maintenance and repair costs, improved vehicle operational reliability and reduced administration.*
Our Freightliner Service Plans are flexible, which means that whether you have a fleet of long-haul trucks or a single vehicle doing local runs, we have the right combination of Service Plans to meet your particular requirements.
COMPLETE SERVICE PLAN
A full service package offering all round protection. Complete Service Plan covers a range of repair and maintenance work. Please consult inclusions and exclusions list in the brochure for more information. The best choice to ensure that your vehicle is in tip-top condition, is always available for use and that costs are kept under control.
BENEFITS AT A GLANCE
A complete service, repair wear and tear package for all-round protection
Predetermined instalments
Reduced administration, leaving you free to concentrate on your core business
For terms of up to 60 months or 1,000,000km.
Roadside Assistance – Repairs, maintenance and towing cost are all covered if the vehicle breaks down due to a part that's covered under the Complete Service Plan.*
Terms And Conditions.
*Terms and conditions apply. Please contact your authorised Freightliner commercial dealer for a copy of the full terms.
BESTBASIC SERVICE PLAN
BestBasic includes all scheduled servicing work for your vehicle, as per the Freightliner requirements specified in the Freightliner Maintenance Manual, along with replacing globes and wiper blades when required. We offer attractive pricing on parts and labour, including a set monthly cost for an agreed term.
BENEFITS AT A GLANCE
All scheduled services are carried out by trained Technicians using genuine parts and lubricants.
Predetermined payments.
Available at any point in the truck's life.
5 YEARS/500,000KMS COMPLIMENTARY BESTBASIC SERVICE PLAN
Need another reason to purchase the Cascadia? How about a 5 years/500,000kms Complimentary BestBasic Service Plan.*
Complimentary BestBasic Service Plan will cover all scheduled servicing work for your new Cascadia for the next 5 years, carried out by trained Technicians using Freightliner Genuine Parts and lubricants.* If you want all round protection, including repair items and roadside assistance, talk to your authorised Freightliner dealer about upgrading to a Complete Service Plan.
Terms And Conditions.
*Terms and conditions apply. Complimentary BestBasic 5 years/ 500,000kms (whichever occurs first from the date the vehicle is first registered) Service Plan available on eligible Cascadia vehicles (on-highway application up to 110,000Kg GCM and maintained as per Cascadia Supplementary Maintenance Manual Service Schedules II & III). On-highway applications up to 110,000Kg GCM, maintained as per Cascadia Supplementary Maintenance Manual Service Schedule I are capped at 5 years/3,000 hours (whichever occurs first from the date the vehicle is first registered). Valid for new vehicles purchased and delivered before 31 December 2023, unless extended. Covers all scheduled service work relevant to the vehicle as specified in the Cascadia Supplementary Maintenance Manual, and can only be carried out in an authorised Freightliner dealership. Please contact your authorised Freightliner dealership for a copy of the full terms and conditions including inclusions and exclusions of items covered under the BestBasic Service Plan. Freightliner is a registered trade mark of Daimler Trucks North America LLC, distributed in Australia and New Zealand by Daimler Truck Australia Pacific Pty Ltd ACN 618 413 282 / NZCN 8039364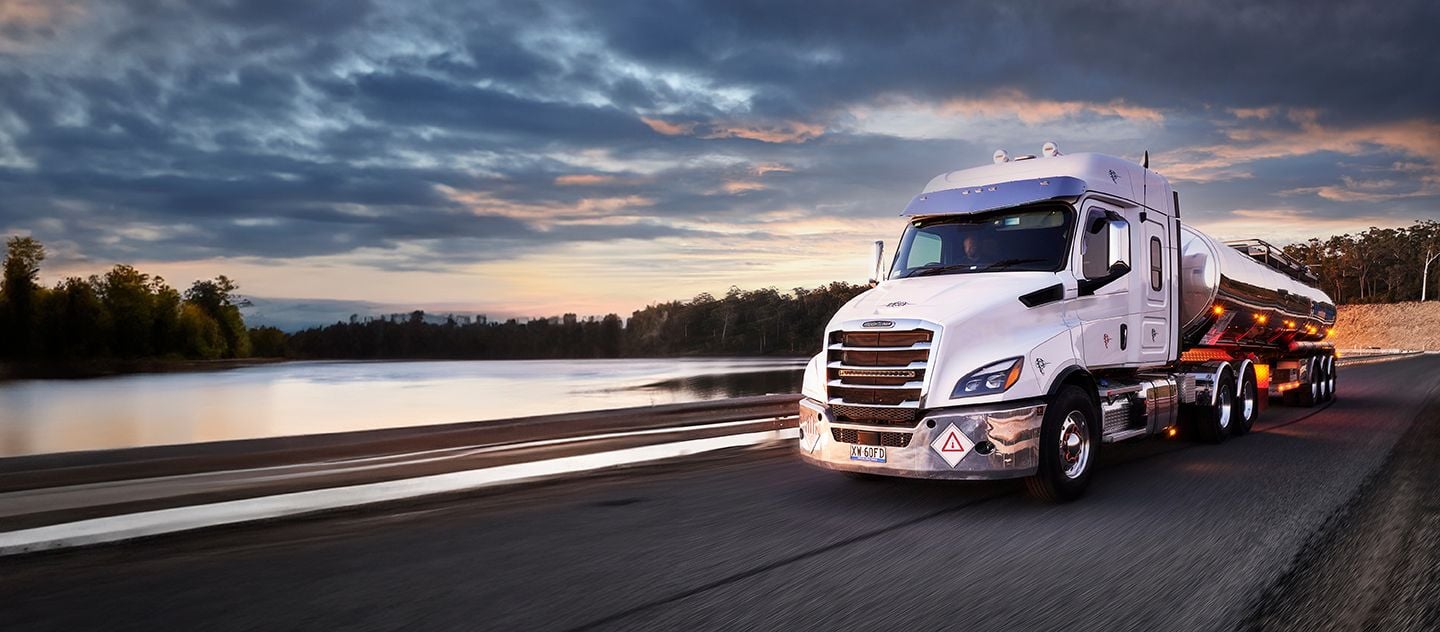 Let's talk
Move your business forward with Freightliner. Our experienced and professional team are at your service